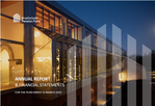 The agenda, reports and minutes of today's meeting of the Strathclyde Pension Fund Committee are now available.
The Fund's total return for the quarter to end September 2022 was -1.4%.
Closing Fund value was £26,430m.
As at 31st October the Fund's value had increased to £26,747m.
In spite of investment volatility, the funding level remains very high. Rising UK government bond yields have had a strong positive impact.
Total membership increased from 269,850 to 272,562 over the quarter.
The Fund has 157 participating employers.